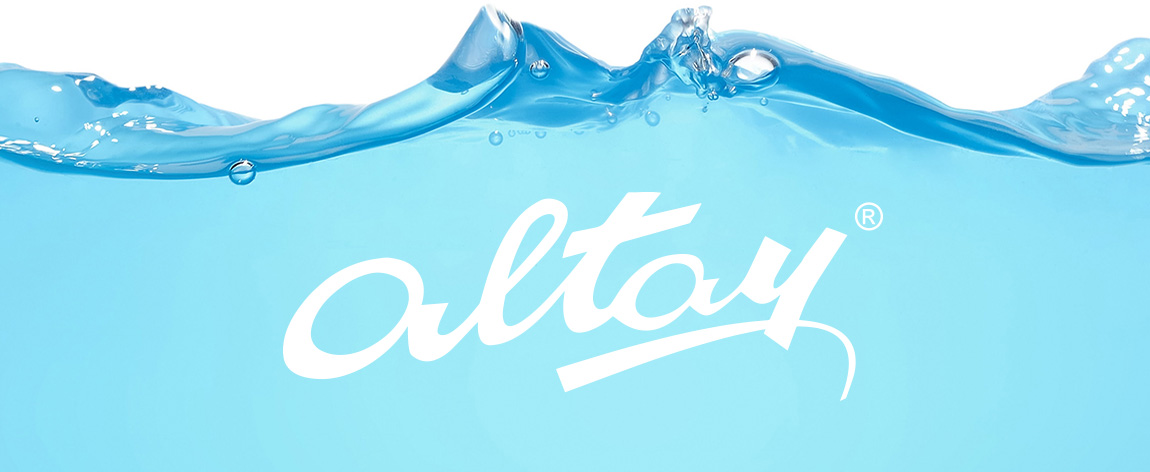 About Altay Dağıtım
Altay Dış Tic.Ltd.Şti. has imported apparatuses of carboys and distributed them in Turkey before production of carboys in Turkey which replaced water sales in bulk in 1998. Altay Dis Tic Ltd Sti spent great efforts to produce world standard domestic products since 1999 and became pioneer in delivery of domestic products with highest standards to market by evaluating relevant data and market demands.
Altay International Water and Water Mak.Dağ.Tur.ve Dış Tic.Ltd.Şti. was established in February of 1998 as an affiliate of Altay Kitap Dağıtımı ve Pazarlama that was founded in 1967. Altay Kitap Dağıtım was awarded as "Distributor of the year" in 1994. Years of experience, honesty, and high quality service and sales support have always been the basic working principles of Altay Dış Tic.Ltd.Şti.

Altay brand has pioneered in introducing the manual water pumps to the Turkish market. However, due to increasing competition among the other water pump manufacturers, using low quality and scrap plastic material to reduce the cost within the last 5-6 years, our company decided to focus on international markets in order to maintain the high quality in our products.
Our company exports 70% of its products abroad to various countries including Russia, Poland, Ukraine, Lithuania, Uzbekistan United Kingdom, Germany, Cameroon and Moldova.
We work with companies pioneering in packaged water sector in Turkey, such as Erikli, Nestle, Alaçam, Aroma and Gümüş providing their own brand and their required format. Our company is based in İzmir, Turkey and can distribute the orders anywhere in Turkey.
About Akplast
Akplast Kalıp ve Plastik San. ve Tic. Ltd. Şti. was established in 2002 in Izmir Karabağlar working in molds and plastic sector. While performing R & D and production for manual water pumps, in 2003 Akplast signed a contract with Altay Company and started to make Altay brand water pumps. The company moved to a new facility in Kısık from Karabağlar due to the increasing production. In 2005, the company was purchased by Altay Dış Tic.Ltd.Şti., and moved to its current production facilities in Pancar in 2010 with 2000 meter2 indoor and 1000 meter2 outdoor area.
The same year, because of the success of "Quality Pump for Quality Water" project that was completed together with İZKA, a new model injection machinery was purchased with the government support, which led to renewal of all machineries in our facility to meet the new technologic standards by the end of 2012.
As a company working closely with packaged drinking water industry, our mission is to offer healthy, practical, durable and affordable products for our customers.